Kurt Weill Factory pours their heartblood (and that is directly translated from German) into various, always new, exciting, delightful projects. Read about our recent, current and future work.
#Working title: Spoiler alert: Sex, Love and Murder
That is what we are working on at the moment and it will be premiered on February 21st at Hamburger Kammeroper in the wonderful Allee Theater.
This project is dedicated to the work with quite some gender shifts, and how the various characters act, sing, walk and talk. With (hopefully) permission by Georges Bizet himself, we use excerpts of his "Carmen" and buff the whole thing up with lots of Kurt Weill, Friedrich Holländer, Mozart, Händel and more. Surprisingly, this is the first time we will have a murder on stage (Death, of course, we have tried many times). We will nourish aesthetics, we use the whole space, and, as always, we strive to be true to what is in our heart, and let abundance pour out of our soul. What does time do to love when we don't pay attention? Let's find out.
We will make our audience laugh, and, hopefully, cry.
René Holm – Living in a box
Our newest and future project is one that we are particularly excited about, since we are trying something new (new even for us).
Danish artist René Holm is working on a series of 12 large monochrome oil paintings – called "Living in a box". How do we put each other and ourselves in boxes, in categories; in what ways do we keep our light from shining that way? Once in a box, there is seemingly no easy way out. We imprison ourselves and others. We label. What is the pain, the suffering we inflict on ourselves and each other because of that? Why do we do this and keep doing this? What would happen if we were free?
"Humans are happy to put other humans into boxes, this way we get a feeling of security and believe that we are in control of each other."
René Holm will make the paintings become the scenography for our performance – and we will make the paintings come to life. We let us bodypaint by the artist himself, and mirror and interprete the works with body performance and music, using opera fragments and improvisation.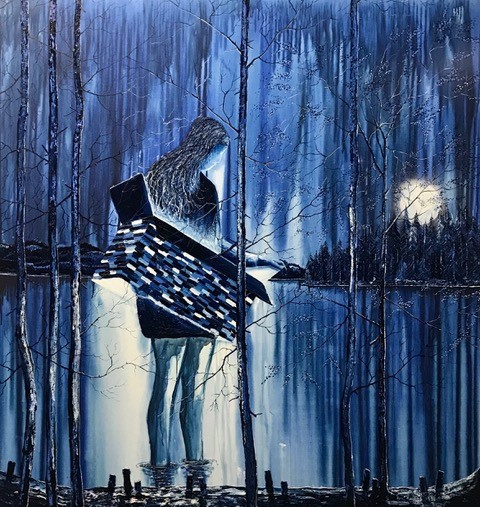 #artistreneholm
Kurt Weill Factory goes naughty and nice
We love christmas! This christmas show is simply glitter, glamour and fun. No abyss of the human soul here! But pure christmas magic, mistle toe, love, holy night and a bit too much to drink.
Let it snow!
Premiered at a bar in Berlin in 2015, and we love to dust it off when the season comes around.
Dreigroschenboheme
Dreigroschenoper and Puccini's La Boheme become one thing. This show has toured in Germany and Denmark. It premiered it in a tiny little tie shop in Berlin and was performed various places in Copenhagen, Hamburg and Southern Germany. We travelled to beautiful Bornholm for the first time and did the show at Svanekegaarden. Wonderful!